News Story
Current Headlines
News Resources
Events Resources
Hinman Honored at Alumni Gala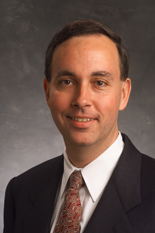 On April 8, Brian Hinman, B.S. '82 electrical engineering, accepted the 2006 Distinguished Engineering Alumnus Award at the university's Seventh Annual Alumni Association Awards Gala.
Hinman is president, CEO and co-founder of 2Wire, Inc., a provider of broadband service platforms for the DSL market. Previously, he co-founded Polycom, Inc., and, at the age of 22, PictureTel Corporation.
He is the sponsor of the Hinman Campus Entrepreneurship Opportunities (CEOs) program – the nation's first high-technology, living-learning program for undergraduates. This award-winning program has been imitated by other schools and launches its graduates into successful careers.
Hinman is also a trustee of the University of Maryland College Park Foundation and a member of the A. James Clark School of Engineering Board of Visitors.
Distinguished Alumnus Awards are presented annually to University of Maryland alumni who have achieved recognition for excellence in their profession or field.
April 10, 2006
Prev
Next